ETC Ships Chambers Three and Four of Four Research Altitude Chambers to United States Air Force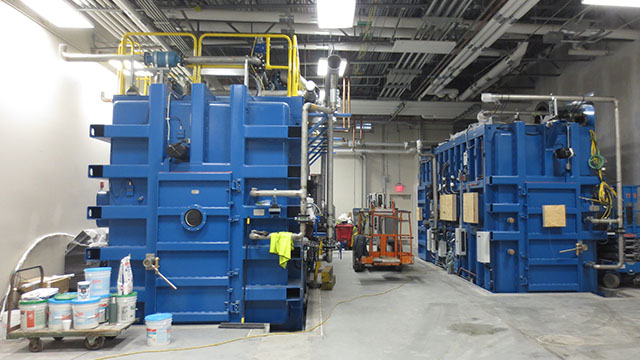 SOUTHAMPTON, PA, USA, July 17, 2014 – Environmental Tectonics Corporation (OTC Pink: ETCC) ("ETC" or the "Company") announced today the shipment of the third and fourth chambers, completing the requirement of four Research Altitude Chambers to the 711th Performance Wing at Wright Patterson Air Force Base in Dayton, OH, USA.

The third and fourth altitude chambers, which are part of a total suite of four chambers sold to the U.S. Air Force, were shipped on June 24, 2014 and July 2, 2014, respectively. The chambers are currently undergoing installation, and will be integrated with the facility, as well as the other two chambers that are currently onsite.

Valued at over $37 million, the suite of research chambers allows maximum flexibility for the design and configuration of unique test scenarios under a wide range of environmental conditions. Each of the four chambers will have its own unique internal layouts and compartmentalization. Three of these four chambers will be "man-rated" allowing human occupancy for ongoing initiatives. The fourth chamber will be utilized for equipment and various research testing scenarios.

ETC`s suite of chambers will support the operational missions for the Aeromedical Research Mission that include:
Human performance assessment in moderate and high altitude conditions
Aircrew equipment development, qualification and Man Rating
Operationally focused aeromedical research
Non-medical engineering test work for aircraft/weapons programs

States William F. Mitchell, Chairman & CEO of ETC, "We are pleased to be finalizing this project and look forward to the commissioning and man-rating process."
---

Foward-Looking Statement: This press release contains forward-looking statements, which are based on management's current expectations and are subject to uncertainties and changes in circumstances. Words and expressions reflecting something other than historical fact are intended to identify forward-looking statements, but are not the exclusive means of identifying such statements. The Company's actual results could differ materially from those anticipated in forward-looking statements as a result of a variety of factors, including those discussed in "Risk Factors" included in the Company's most-recent Annual Report on Form 10-K filed with the United States Securities and Exchange Commission. We caution you not to place undue reliance on these forward-looking statements.
Back to News Releases
TRAINING SERVICES
EQUIPMENT SERVICE
AIRCREW TRAINING SYSTEMS
125 James Way
Southampton, PA 18966
215-355-9100

ats@etcusa.com